Winter Bocce Has Arrived!
Major League Bocce has got your back for 2017.

Take a vacation from the cold weather blahs and have some fun every week at the bar with indoor bocce! We are rolling at Stone Mad Pub in Detroit-Shoreway & Wild Eagle Saloon in Downtown.  
Never miss another season - sign up on our mailing list to be the first to hear about all of our upcoming leagues plus receive exclusive discounts and special offers!

Want to learn more? Connect with us!
Email:
mail@majorleaguebocce.com




Check Out Where We Roll
Major League Bocce has been rolling in Cleveland for the past three years, and we have never missed a season at our favorite sponsor bar, Stone Mad Pub! There are bocce courts located a block behind the bar for a little outdoor play time when weather permits. And the bar has its own clay bocce court inside so we can roll year round! Stay tuned for details on the upcoming spring season and play-drink-score all year long.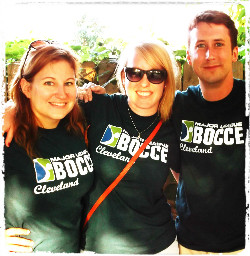 Spring Bocce in Cleveland
Bocce returns to Cleveland this spring in Detroit-Shoreway! We're playing Indoor/Outdoor bocce on Tuesdays on the courts behind and in Stone Mad Pub. If you're signed up to play, check the division page for the season schedule and standings.
Did you miss out on the winter season? No worries, we're doing it all over again this spring! Sign up on the mailing list and we'll send you a friendly reminder when it's time to register.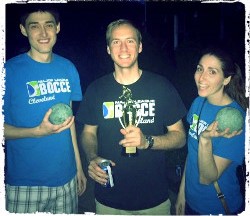 Score with Major League Bocce
Are you ready to join a sport that is fun, social, and accessible to everyone? Welcome to Major League Bocce --- the social sports experience you've been looking for! Play with balls. All players receive:
8 weeks of bocce good times
Food and drink specials at the bar

A sexy team t-shirt

FREE party at the end of the season
Never miss out on another season - sign up on our mailing list and we'll send you a reminder of when to register. 
---

 
Austin - Boston - Charlotte - Cleveland
Dallas - Delaware - Houston - Philadelphia
Pittsburgh - Richmond - Washington, DC